Euglena gracilis is a unicellular protist exhibiting different motility strategies: swimming by flagellar propulsion, or crawling thanks to large amplitude shape changes of the whole body (a behavior known as amoeboid motion, or metaboly).
Swimming is propelled by the non-planar beating of a composite flagellum powered by an axoneme, with molecular motors sliding over microtubule bundles (arranged according to the "standard" 9+2 architecture).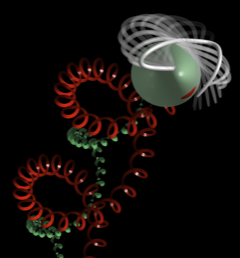 The non-planar beating of the flagellum leads in turn to helical trajectories coupled with body rotations, and these rotations play an important role in the phototactic behavior of E. gracilis.
Confinement triggers a behavioral change, namely, E. gracilis switches from flagellar swimming to ameboid motion, which is propelled by peristaltic waves along the body of the organism. These are powered by molecular motors driving the relative sliding of pellicle strips lying underneath the plasma membrane. The mechanisms controlling the gait switch in this unicellular organism are still unknown.
Our most recent findings on the motility of E. gracilis, which are the result of a combined theoretical and experimental analysis, will be surveyed.
Image: flagellar shapes and resulting trajectories of the cell body (green) and eyespot (red) of Euglena gracilis